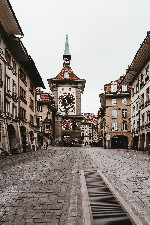 University of Bern (dt. Universität Bern) is located in the capital of Switzerland, the city of Bern. The University of Bern is one of the largest universities in Switzerland with 19,500 students currently studying, 9% of which are international students and the number is constantly growing.
Basic research, which is carried out at the University of Bern and the learning process are concentrated on points such as:
sustainable development (climate, regulation of international trade, overcoming global changes, biodiversity, resource exploration);
health and medicine (biomedicine, medical technology, neurological research, physical and mental health);
matter and the universe (physics of elementary particles, space exploration and life on other planets, the origin of life);
intercultural knowledge (cultural exchange, understanding of other cultures and religions, intercultural knowledge, cultural values);
policy and management (research in the field of economic, legal and social sciences, creation of state and industrial communities).
At the University of Bern, there are many programs to improve the skills of people of different ages and professions, as well as for young scientists who would like to take part in various research projects. Teaching at the University of Bern takes place in German and English.
At the University of Bern you can study the following specialties:
archaeology
ancient Judaism
archaeology
European archaeology
history
social anthropology
anthropology of transnationalism and the state
social sciences
sociolinguistics


business administration
applied economic analysis
business and economics
business and law
economics
International and monetary economics
artificial intelligence in medicine
bioinformatics and computational biology
computer science
statistics and Data Science


biomedical engineering
biomedical sciences
biochemistry and molecular biology
biology
chemistry and molecular sciences
molecular life sciences (biology and biochemistry)
physics
mathematics


medicine
pharmaceutical sciences
veterinary medicine
dental medicine
ecology and evolution
earth sciences
geography
climate sciences


German language and Literature
German Studies
editorial studies
English
French linguistics and literature
Spanish linguistics and literature
world literature
Slavic languages and literatures
linguistics
Italian linguistics and literature
classics
linguistics

education


art history with curatorial studies and museology
art history with cultural heritage
art history with special qualification in the history of textile arts
world arts and music
art history
musicology
theatre studies
theatre and dance studies
Latin American studies
Eastern European Studies
cultural differences and transnational processes
Central Asian Studies
Islamic studies and oriental literatures
Islamic and Middle Eastern studies
Middle Eastern studies


interreligious studies
science of religion
religion in contemporary society
religious studies
philosophy
theology
political, legal and economic philosophy
philosophy of science
political science
politics: comparative and Swiss politics
public management and policy
Law
precision engineering


psychology


sport science
sport didactics
If you are interested in more information about the University of Bern (Universität Bern), then you can find more information about this here. - Universität Bern