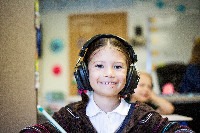 As for language courses in Germany, there are a huge number of them and sometimes you can get lost among this variety.
As for the price and quality, the language courses here are very different from each other. A week of language courses in Germany will cost at least 150 euros for 4 hours of intensive lessons (45 minutes each) per day. There are courses that are much more expensive than a week of intensive classes, but with an increase in the price of courses in Germany, their quality does not necessarily increase.
In addition, half of the language courses in Germany also offer accommodation with a family or in a student dormitory. Such accommodation without meals costs from 250 euros per week and more. And if you are planning language courses in Germany in one of the big cities of Germany, such as Berlin, Munich, Hamburg or Cologne, then living in these cities can reach 500 euros per week.
In order to correctly choose inexpensive, but high-quality courses in Germany, it is necessary carefully to read reviews and comments in the Internet and social networks about these courses.
The cheapest and highest quality courses in Germany are the state courses "Volkshochschule". The only drawback of these courses is that they cannot be ordered from abroad. You must have a German residence permit in order to be able to visit the "Volkshochschule" in Germany.
1. Volkshochschule Deutschland (here you will find detailed information about all "Volkshochschule" in Germany).
As for private language courses in Germany, we can recommend the following courses and language schools:
2. Goethe Institut (The Goethe Institute is one of the most expensive, but high-quality courses in Germany).
3. Humboldt-Institut (very good German courses for schoolchildren, but expensive).
7. LINGULAND (Site, where different language schools in Germany are presented with user ratings).