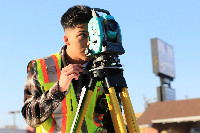 In Germany, there is such a type of education as "training for a profession" (dt. Ausbildung).
This form of education in Germany involves attending a vocational school (dt. Berufsschule) and simultaneously working at a company in Germany. Usually, this form is chosen by people who have just finished school and would like to learn practical skills and a working profession as soon as possible, and at the same time, immediately, while studying, receive a salary. In fact, it can look like this. For example, in Germany there is a list of companies that are currently looking for students and offer this form of "vocational training" (dt. Ausbildung). A potential candidate sends his or her resume and motivation letter to the company, company representatives conduct an interview with the potential candidate and decide whether or not to give him or her the opportunity to do a vocational school (dt. Ausbildung) at their company.
If this happens, the student gets the opportunity to work at an enterprise in the chosen specialty and simultaneously study theoretically at a special vocational school (dt. Berufsschule). The ratio of work and study looks different. For example, a student works at an enterprise 3 times a week and studies at school 2 times a week, or works at an enterprise for 3 months and studies for 3 months. Intermediate options are also possible. This type of education lasts 3 years.
The advantages of this type of education are that for 3 years (if you have knowledge and work experience in your chosen specialty, this term can be shortened) you practically work in your specialty, get theoretical knowledge, and you are also paid for it (on average from 450 - 650 euros per month). After completing such professional education, you can be left to work further at the company where you receive your profession. Previously, this type of study-work was not available for foreigners, but now it is officially allowed for foreigners as well.