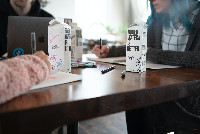 If we talk about internship programs in Austria for students, then in the first place in demand are the so-called. dt. Traineeprogramme. This type of internship is very popular among students in Austria, because it not only allows you to do an internship in your field of study and gain invaluable practical experience while studying at an Austrian university. Traineeprogramme also provide an opportunity successfully to get the job at the company in Austria, where you have this internship.
The great advantage of Traineeprogramme for students in Austria is, in contrast to the usual internship, the opportunity to get acquainted with different departments of the company, understand how different departments of the company interact, and how to build proper subordination and cooperation between departments for success.
Moreover, internship programs for students in Austria (so-called dt. Traineeprogramme) allow you to gain good practical knowledge and skills in your specialty, which optimally complement your theoretical knowledge acquired at the university. This will allow you to become a good young specialist and increase your chances of getting the desired job in Austria after graduating from an Austrian university.
In addition, an internship at a company (dt. Traineeprogramm) will give you the opportunity to make useful professional acquaintances that will help you build a successful career in Austria.
The average duration of Traineeprogramm in Austria is 17 months. Internship programms are most often offered by Austrian international banks and insurance companies. Initially, internship programs (so-called dt. Traineeprogramme) existed early only for students of economic specialties. At the moment, the situation has changed and there is a large number of internships for engineers, computer scientists and representatives of natural and social sciences.
Internship programms (dt. Traineeprogramme) offer their participants a variety of seminars, trainings, and language courses that should help participants in these programms fully integrate into the work of enterprises in which they take these programs, as well as gain all the necessary skills and knowledge to work successfully.
Internship programms (dt. Traineeprogramme) for students and graduates of Austrian universities are always well paid, and many of them also provide for a stay outside Austria in other European countries in the branches of companies where you do an internship for 2-3 months.


Here are some of the most popular internship programs (dt. Traineeprogramme) in Austria for students and graduates of Austrian universities:
1. EVN IT Traineeprogramm
2. BILLA Traineeprogramm
3. MERKUR Traineeprogramm
4. Wien Energie Traineeprogramm
5. Porsche Holding Traineeprogramm
6. Liebherr-Werk Bischofshofen Traineeprogramm
7. REWE Österreich Category Management Traineeprogramm
8. Unibail-Rodamco-Westfield Traineeprogramm
9. Bank Austria Traineeprogramm
10. Peek & Cloppenberg Traineeprogramm
11. Walter Group/ LKW Walter Traineeprogramm
12. ERSTE Bank Traineeprogramm