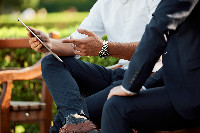 One of the good opportunities to improve your qualifications, even get an additional specialty, and get a master's degree in Germany is the so-called MBA programms (engl. Master of Business Administration).
MBA programms in Germany are a good opportunity to get practical work experience in a German company and a German master's degree in a short period of one to two years. This type of master's programm in Germany combines the possibility of theory and active practice at the same time. But usually MBA programms are designed for those who already have a bachelor's or master's degree, as well as 1 to 2 years of work experience in an enterprise. Although there are exceptions to this rule.
All MBA programms have active networks of their graduates (the so-called Alumni), which allow you to make useful acquaintances through these networks and find high-paying jobs in Germany and abroad after completing the MBA programm. A feature of all MBA programms is that they are designed to give their students the necessary knowledge in the field of management and to prepare highly qualified top managers.
MBA programms are becoming more and more popular in Germany every year, especially among foreign students. These programms allow you to obtain additional business qualifications, and after completing these MBA programms, young professionals can expect to receive a prestigious and highly paid job in Germany and other European countries. Most of these programms are paid and require capital investment.
Figures show that there are about 10% of potential jobs in the German labor market where your MBA degree can be very valuable. The good news is that if you have already received a position that corresponds to your MBA qualification, then your chances of making a successful career in this position are higher than those of specialists without such qualifications.
We would also like to draw your attention to the fact that German employers prefer business schools in Germany that have an international orientation of their programms and are mostly focused on gaining practical, rather than theoretical, experience. The weight of an MBA degree also depends on the accreditation level of your business school and its ranking in the overall ranking of business schools in Germany.