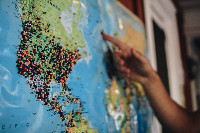 If you are a student at a university in Germany, Austria or Switzerland, this is the opportunity for you.
The German concern MLP, which provides various financial services to businesses and individuals, offers 100 paid scholarships each year for internships in the best companies in the world for students of German, Austrian and Swiss universities.
This scholarship includes flight, accommodation, health insurance, and an MLP credit card for out-of-pocket expenses. Among the partners of this program are such well-known companies as "BASF", "Commerz Business Consulting", "Henkel" etc. Students who receive this scholarship after passing the competition will take part in specific projects that they will need to complete during the internship and report on their results.
This is a unique opportunity to prove yourself well in the company where you are practicing and get a good job. The scholarship is issued for a period of two to six months. Students who will take part in the competition will have the opportunity not only to successfully pass the internship, but also to listen to interesting reports from practicing speakers in their specialty, as well as to talk to top managers of leading companies.

You can find more information about this here ... MLP