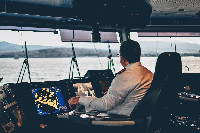 For all those who are interested in the sea, shipping and ship management, there is an ideal specialty in Germany, "International Maritime Management", which is offered as a master's program by the German University Jade-Hochschule Elsfleth.
Studying in this master's program lasts 2.5 years and includes both full-time (dt. Präsenzstudium) and part-time (dt. Fernstudium) studying. If you choose the form of distance learning, it will allow you to get an education while working at the company. In this case, according to the German law, you get an additional so-called educational leave (dt. Bildungsurlaub) once a year, as well as the opportunity to receive funding for your education or some part of it from the company.
For those who choose the part-time form of study at "International Maritime Management" at the German Jade-University in Elsfleth, then you will have the additional opportunity to choose a narrower specialization in "Maritime Business" or "Green Shipping". "Green Shipping" in particular is a new direction in the field of maritime transport in Germany and therefore such specialists in the labor market in Germany are very few and they are in great demand..
After completing this program, you can work in Germany and abroad in the field of maritime transport, maritime concerns, banks, insurance companies and consulting firms that are engaged in maritime transport and maritime business.
If you are interested in this specialisation, you can find more information on this topic at the link